Play the Hits: June 2022
Alright, y'all, we had to call our first audible on the blog this month. We have a LOT coming up this summer (Tastings! Our first large-scale Expo! Our much-belated wedding!) so we decided to PLAY THE HITS this month by re-sharing a few of our favorite recipes from the last year. Not to worry, we'll be back with fresh new content in July. Until then, here's some of our top recipes of all time!
2 oz vodka
1.5 oz espresso
.5 oz Kahlua
.5 oz Blackberry Vanilla Crescent Simples
Bill is a HUGE fan of the espresso martini. Let's be real -- we're in our 30s with no kids. We like to go out, but we get tired! And we're definitely not drinking Vodka Red Bulls anymore. So we suggest an espresso martini to class up your pre-game cocktails. Our Blackberry Vanilla syrup is absolutely delicious with coffee, so it's a perfect fit. To achieve the foam you want to see on top, make sure to use fresh, hot espresso. To make this cocktail, just add all the ingredients to a shaker with ice, shake hard, and strain into a coupe. Garnish with three espresso beans: one for health, one for wealth, and one for happiness.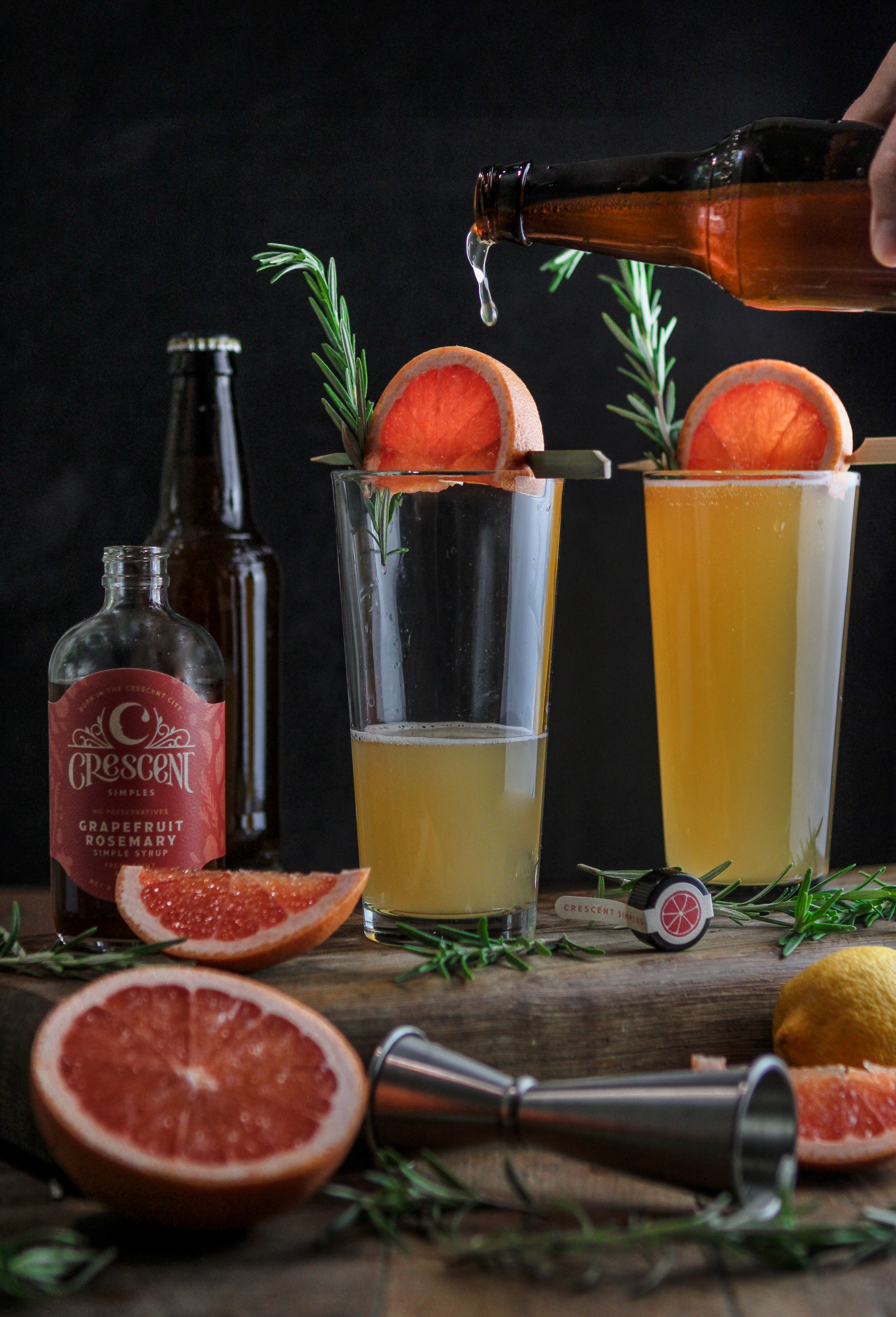 2 oz water
1 oz lemon juice
.5 oz Grapefruit Rosemary Crescent Simples
Top with wheat beer of choice
There's little more refreshing than a shandy on a hot summer day. As we head into beach trips and pool days, this will be what we reach for again and again. The first three ingredients are just a simple homemade lemonade recipe that we can size up or down and add any of our syrups to. Start by mixing those three ingredients together in a shaker with ice, then strain into a beer glass and top with your favorite wheat beer.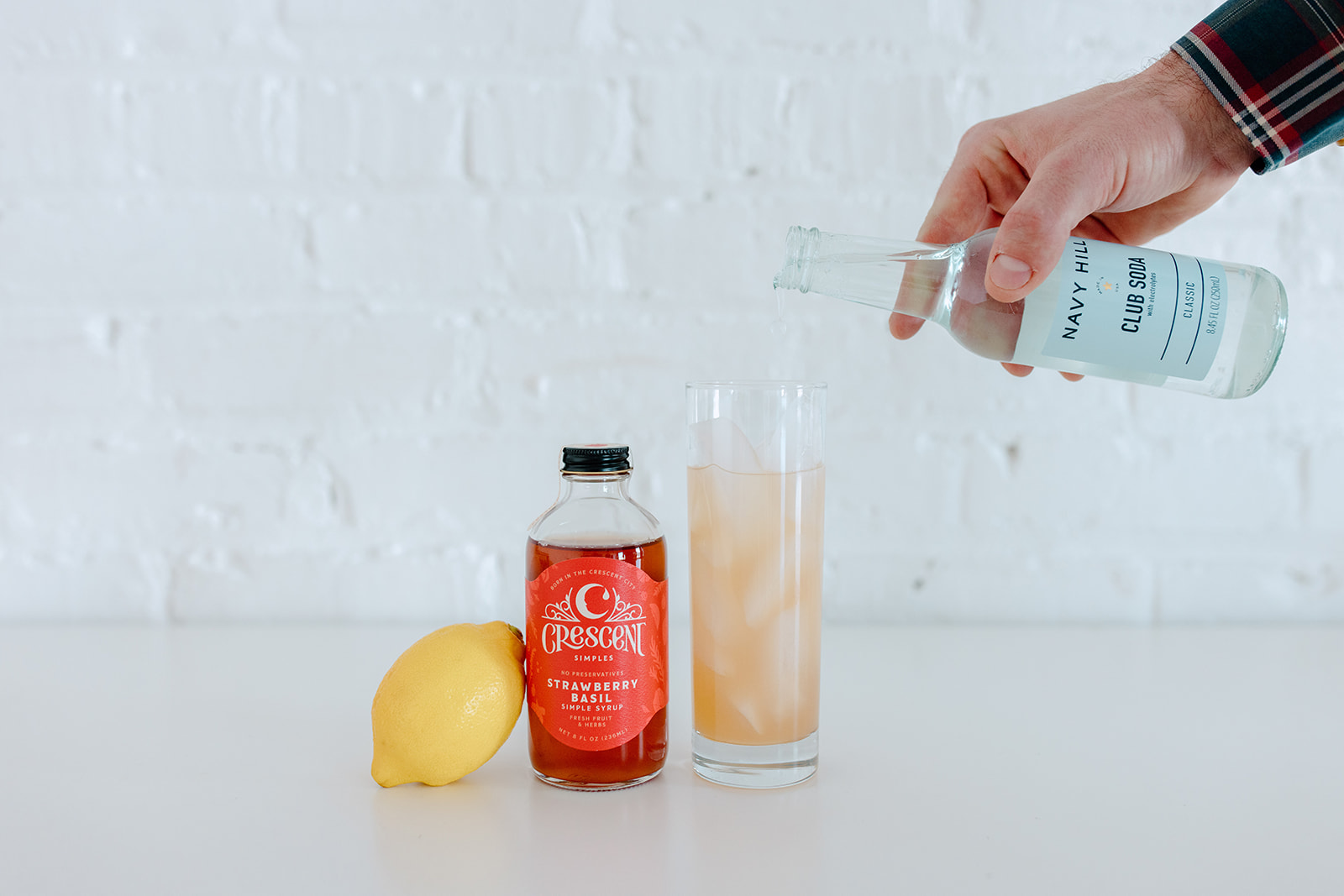 1 oz lemon juice
.75 oz Strawberry Basil Crescent Simples
Top with soda water
Optional: spike with gin, vodka, or your favorite zero proof spirit
A Collins is always a go-to because it's so versatile. You can make it with any liquor, or non-liquor, your heart desires. It's also delicious without (basically just a sparkling lemonade). Or, switch up the citrus! Switch up the syrup! Basically, this is a great base recipe for when you're craving a cocktail but all you have is a grapefruit, some gin, and some soda water. That being said, we particularly love it with Strawberry Basil for a refreshing taste of summer. You can build this cocktail directly in the glass and then just give it a stir to mix.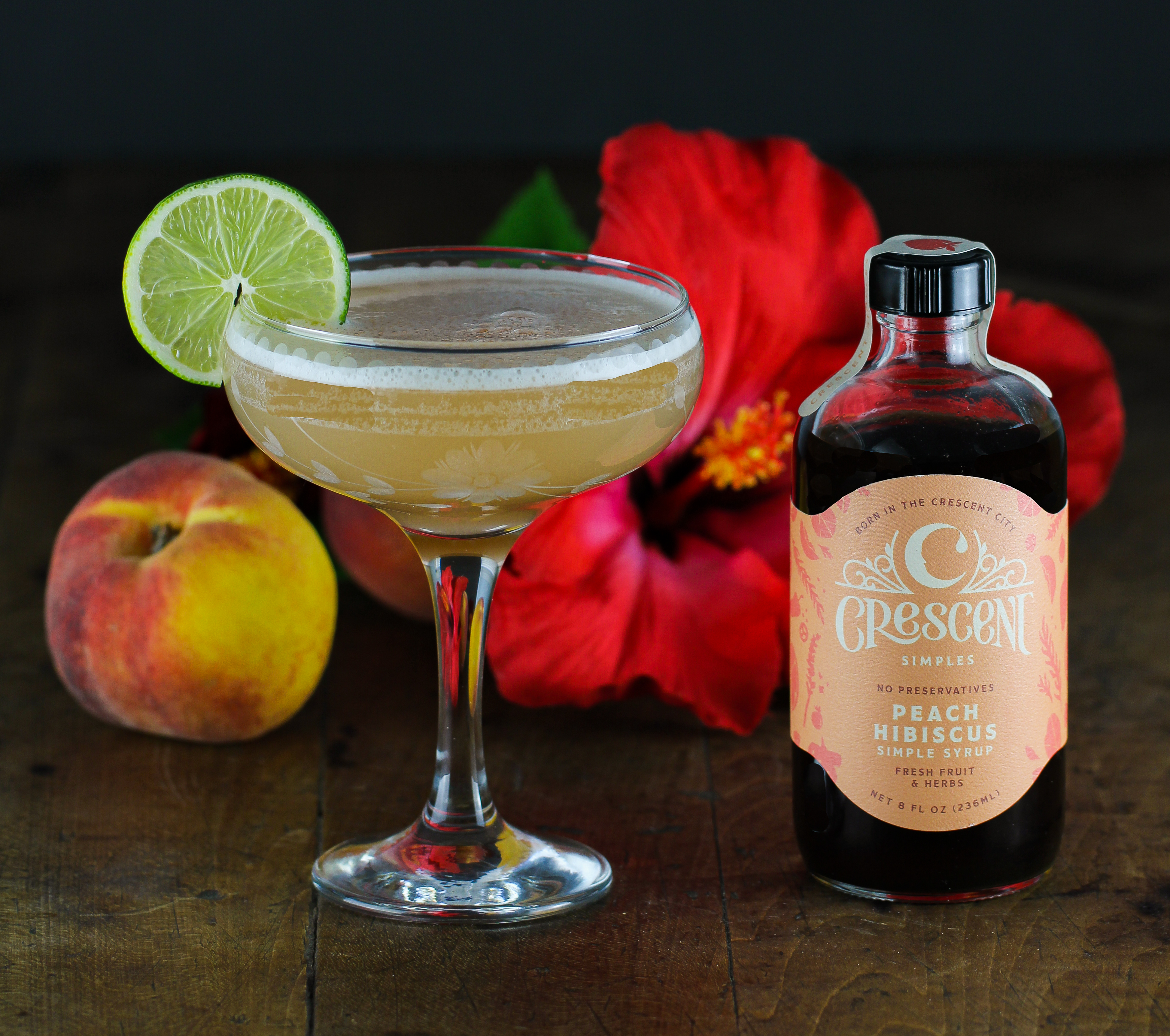 2 oz rum
1 oz lime juice
.75 oz Peach Hibiscus Crescent Simples
Last but never least, we have this delicious Peach Hibiscus daiquiri to share with you because peaches are back in season at the end of this month! As soon as Carter's Mountain has them available, we'll be pumping out gallons upon gallons of this fan-favorite syrup. We're even throwing a launch party at Carter's Mountain on July 1st to celebrate the start of the season! Come see us from 2 to 5 to taste our syrups in their new sparkling wine, and take home a bottle of Peach Hibiscus to make this cocktail with! To make it, just shake all the ingredients with ice in your cocktail shaker and strain into a coupe. Cheers to summer!