Welcome back to the blog!
This is a welcome to both us and you, because it's been over a year since we wrote our last blog post. The pandemic, amiright? Anyways, we're excited to get back in the saddle sharing cocktail recipes with you! We're starting a once monthly series called "What We're Drinking Now" that will draw inspiration from seasonal ingredients, new releases, and local and global events to create a few go-to cocktail recipes for the month! With the release of our new flavor, Raspberry Rose, and the dawning of Spring, we figured there couldn't be a better time than now.
But before we get to the cocktail recipes, we're going to add a shameless plug: this blog will be announced every month in our newsletter. You can sign up for it on our website landing page, by opting in when you order, or by sending us your email in an Instagram DM! Whatever works for you. We'll be using it to share what events will be at each month, new stores you can find us in, and any business announcements or updates. Newsletter subscribers will be the first to know any exciting company news, so you don't want to miss out! And to show our love, we'll be throwing in a coupon code every now and again.
And now, for the thing you've been waiting for: the April cocktails.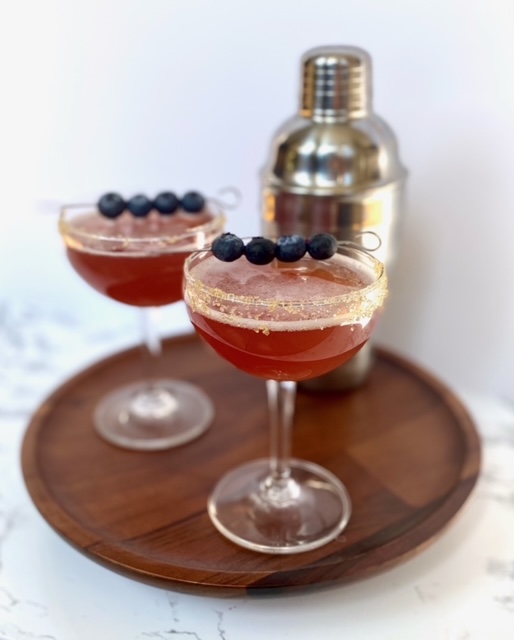 If you follow us on Instagram, you know we've been obsessed with the new Belle Isle Moonshine flavor release, Lemon Lavender. From the looks of the stories and posts, so have you! So our first April cocktail is a Lavender Lemondrop made with our Blueberry Lavender syrup and Belle Isle Moonshine's Lemon Lavender.
2 oz Belle Isle Lemon Lavender Moonshine
1 oz lemon juice
.5 oz Blueberry Lavender Crescent Simples
You're going to want a chilled coupe for this one. If you don't have a coupe handy in the freezer (no worries, most of the time we don't either), put some ice cubes in your coupe and fill it up with water and let it sit while you prep this cocktail. Next, fill a small plate with raw sugar crystals. Add all your ingredients to a shaker with ice and shake hard until the shaker is frosted on the outside and almost too cold to hold. Dump the ice water out of your coupe, run a lemon wedge around half of the rim, and dip it into the plate of sugar. Strain your cocktail into the coupe and garnish with a lemon wheel or some fresh blueberries on a cocktail pick.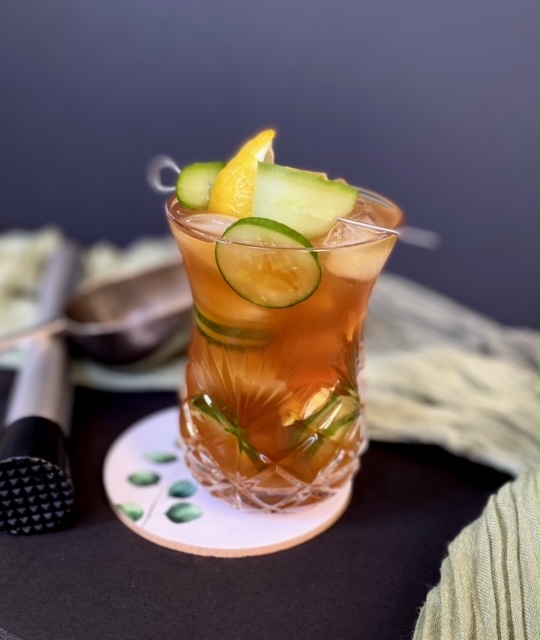 Spring absolutely demands a good Pimms Cup. Actually, with the ease of changing this cocktail to fit with seasonal ingredients, every season demands a good Pimms Cup, but we digress. Strawberry Basil is our flavor of choice for this cocktail. We like to kick it up a notch by splitting the Pimms with some gin!
1 oz Pimms Liqueur
1 oz Gin
1 oz lemon juice
.5 oz Strawberry Basil Crescent Simples
5-6 cucumber slices
This cocktail looks really beautiful if you throw some fresh strawberries and basil in with your cucumber, but if you're just looking for the flavor our syrup will do the trick. Place your cucumber slices in a Collins glass, add your lemon juice and simple syrup, and muddle to your liking. Add the gin, Pimms, and ice, then top with soda water. Use the bottom of a shaker to toss the cocktail back and forth a few times to mix. Garnish with a cucumber slice.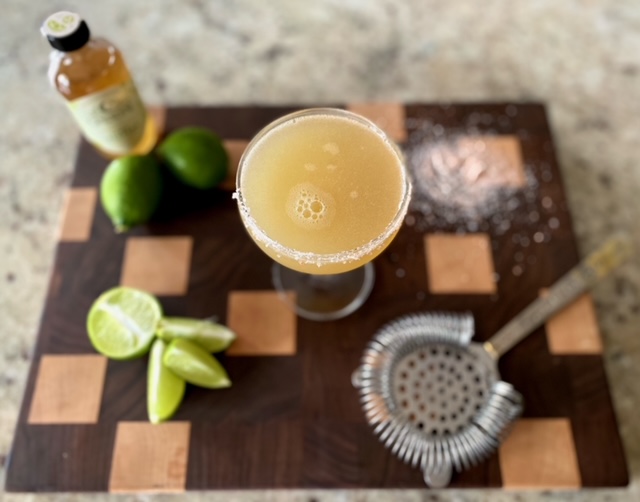 Warmer weather means we need a spicy drink on the menu, of course! Mezcal and our Lime Jalapeno simple syrup fit the bill perfectly. To pretty this cocktail up a bit, we like to add a half salt rim with chunky Himalayan salt. You can find adjustable pink salt grinders at your local Whole Foods.
2 oz Mezcal
.75 oz lime juice
.75 oz Lime Jalapeno Crescent Simples
Fill a small plate with coarse ground pink salt. Run a lime wedge around half the rim of a coupe and dip it into the salt. Add all your ingredients to a shaker with ice and a pinch of salt. Shake until cold and strain into your rimmed coupe.
This year marks the return of an event that we saw postponed by the pandemic last year: the Kentucky Derby, which runs from April 30-May 1! One of our first dates, long before we started Crescent Simples together, was to the race track. We like to honor the Derby every year by drinking delicious Mint Juleps all weekend! This recipe isn't exactly traditional, but it's the way we like to drink them so we don't end up toasted by noon.
2 oz Woodford Reserve Bourbon
.5 oz Raspberry Rose Crescent Simples
6-8 mint leaves
You don't need a julep tin to enjoy this cocktail, nor is crushed ice required, but if you have them they certainly make it more fun! A Collins or Rocks glass works just fine for the glassware, and you can crush your own ice at home if you get creative. When in a pinch, we fill a mesh reusable produce bag with ice and smack it with the back of an ice scoop until the ice is a size we're happy with. Add your liquor, syrup, and mint leaves to whatever glass you're using and muddle the mint gently and not for long -- you just want to express the herbs, not crush them. Add your ice to the very brim of the glass, top off with soda water, and slide a barspoon up and down along the inside of the glass to help mix the drink. Garnish with a mint sprig, and if you have it, some powdered sugar!