Last month we celebrated three years of Crescent Simples! We're not sure if it feels more like the blink of an eye or an entire lifetime. Either way, we are super grateful to you all for keeping our little business chugging along. At the end of the day, all that really matters is we still have a blast doing it. I certainly wouldn't trade my job for the world! And one of my favorite parts is testing out these cocktails and mocktails for you all. This month we were definitely feeling the tropical vibe -- I mean, who isn't in this heat? So we kept things fruity and refreshing!
1 oz light rum
1 oz dark rum
1 oz banana liqueur
1 oz pineapple juice
1 oz lime juice
1 oz Blackberry Vanilla Crescent Simples
If we're talking tropical drinks, a spin on a Rum Runner has to be in the equation. In my best Bill Hader voice: "This Crescent Simples cocktail has it all: two kinds of rum, pineapple juice, a fruity liqueur..." In other words, you know you want one. The Blackberry Vanilla syrup adds a nice depth of flavor, and we always love it with rum. To make this drink, just add all ingredients to a shaker with ice, shake until cold, and strain into your best tiki glass filled with fresh ice! Pineapple leaves make for a great garnish.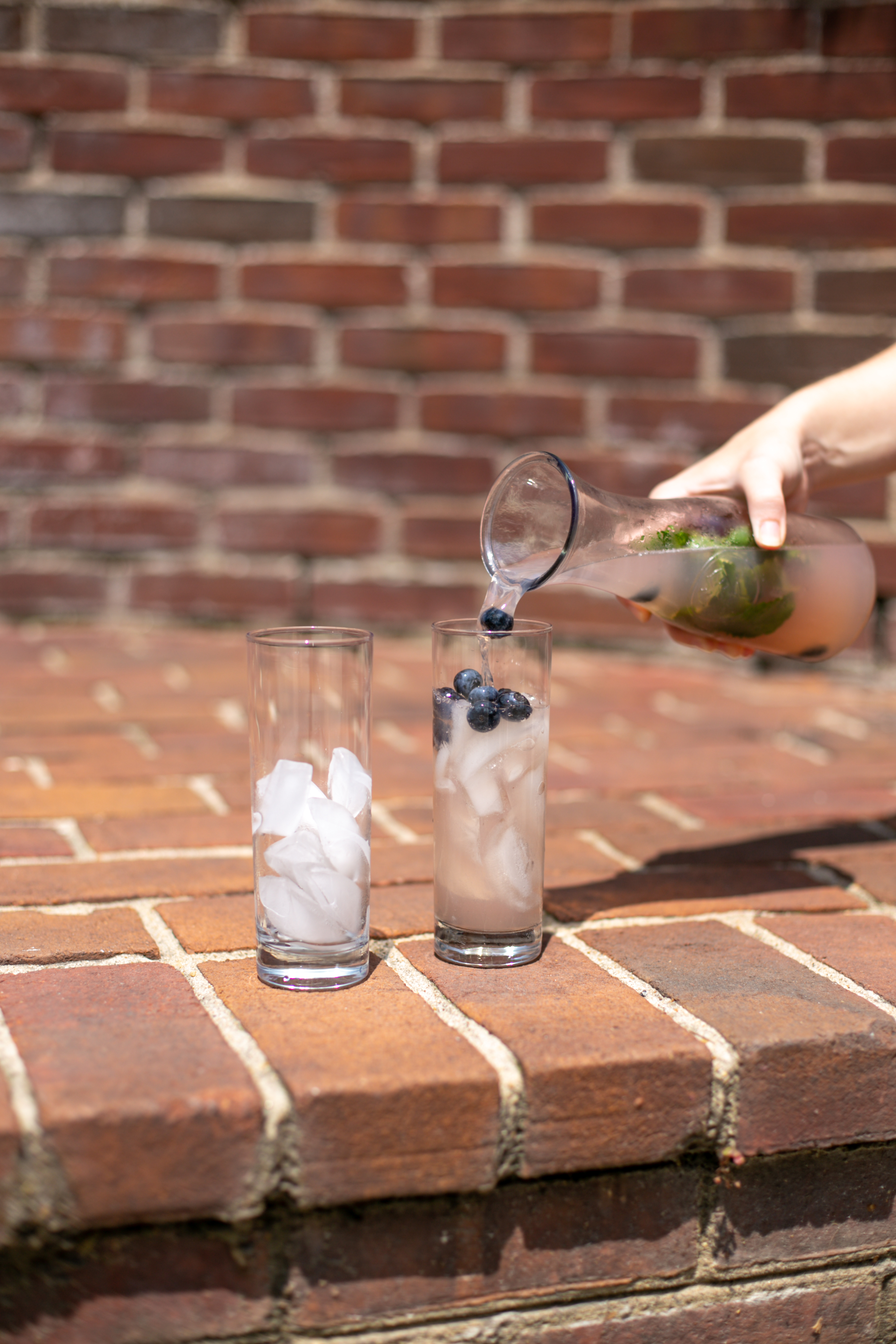 1 oz lime juice
.75 oz Blueberry Lavender Crescent Simples
5-6 mint leaves
Top with soda water
A mojito is one of the most classic mocktails to make, probably because it's truly delicious either way. You don't have to change anything about the recipe other than nixing the rum, and you've got a perfectly complex non-alcoholic drink. It's super easy to batch out, making for a great summer thirst quencher when you're having people over. Make it without the booze and put a bottle of rum beside it so your guests can decide for themselves. Everyone will feel included in the festivities! To make a single serving, add your mint leaves, lime juice, and simple syrup to the bottom of a Collins glass and muddle lightly. You don't want to smash the mint leaves, you just want to express them. Top with ice and soda water, then stir with a barspoon to combine.
2 oz tequila
.75 oz lime juice
.75 oz Peach Hibiscus Crescent Simples
5 dashes Angostura bitters
One of Bill's favorite cocktails when we lived in New Orleans was a Mexican Firing Squad. Considering the weather is giving me real New Orleans vibes these days, I figured it was about time we made our own version. A Mexican Firing Squad is kind of like a simple margarita, but add bitters and serve it up. Our Peach Hibiscus syrup is a perfect fit for anything with tequila, but it also plays incredibly well with Angostura bitters, so it seemed like a match made in heaven. All you need to do is shake all the ingredients with ice and strain into a coupe. Perfect for keeping things simple when it's too hot to think.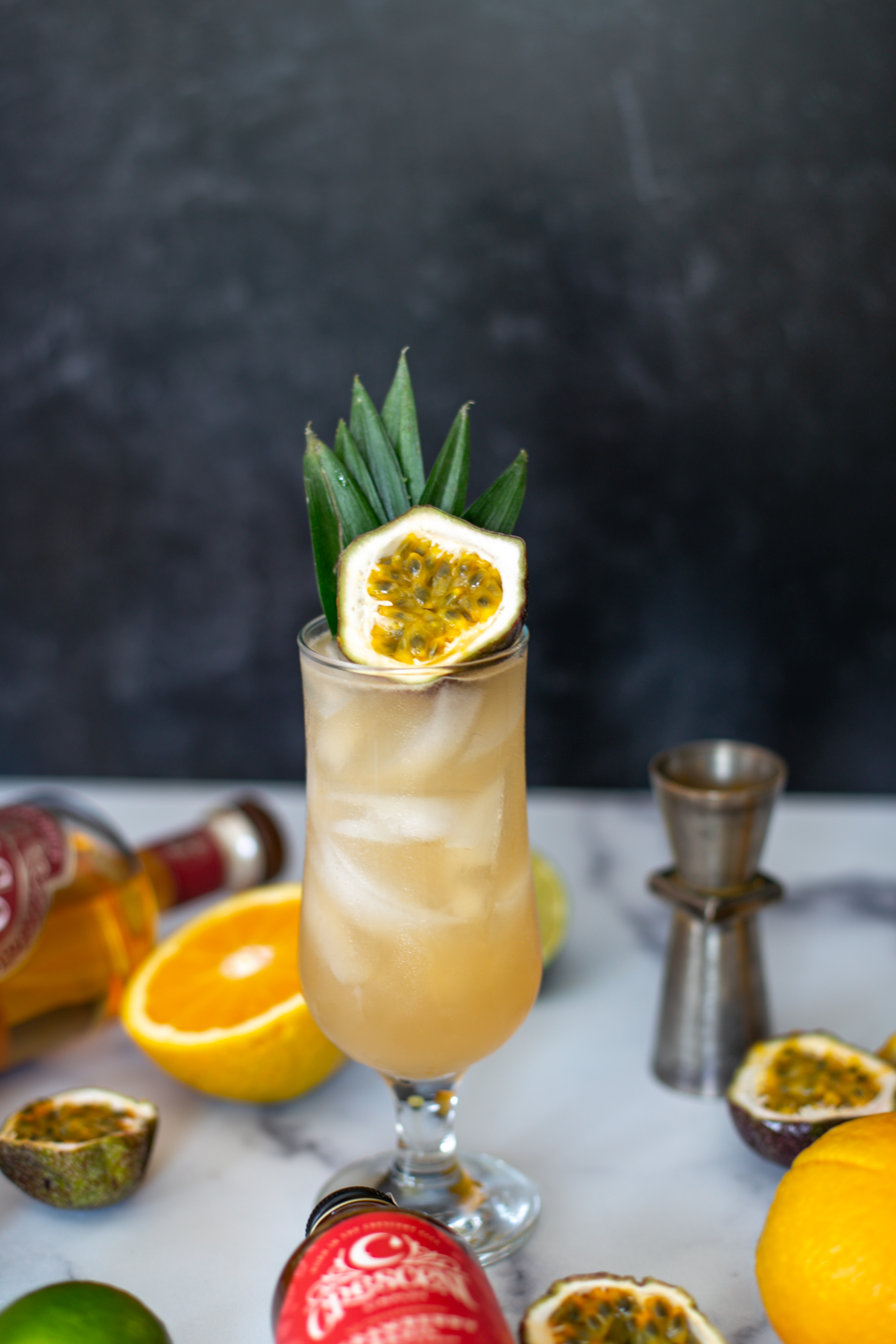 1 oz light rum
1 oz dark rum
.5 oz lime juice
.5 oz orange juice
.5 oz Strawberry Basil Crescent Simples
.25 oz passionfruit puree or juice
You know you're from New Orleans when...August means it's time to hurricane prep. Which means it's also time to make yourself a hurricane! I can't tell you how many absolutely disgusting versions of this drink I've had, but we took it back to the Hurricane's roots for a good quality, won't make you black out, won't make you barf, version of this New Orleans classic. The only tough-to-find ingredient in this drink is the passionfruit puree, but you should be able to at least find passionfruit juice at most Whole Foods. To mix it up, add all the ingredients to a shaker with ice, shake until cold, and strain into a Hurricane glass.