Happy New Year, Crescent Simples lovers! We are ever so grateful for the opportunity to spend another year making fancy simple syrups and talking about cocktails with y'all. While 2021 was a difficult year, it was also a year full of growth and excitement for our little company. We're looking forward to seeing what 2022 will bring! One thing's for certain: we'll be here with new recipes for you all year long. And in the interest of including all types of drinkers in these recipes, we're committing to at least one no ABV drink in each blog post, and usually one low ABV one, as well. Our syrups have many uses, and we're here to support all of them!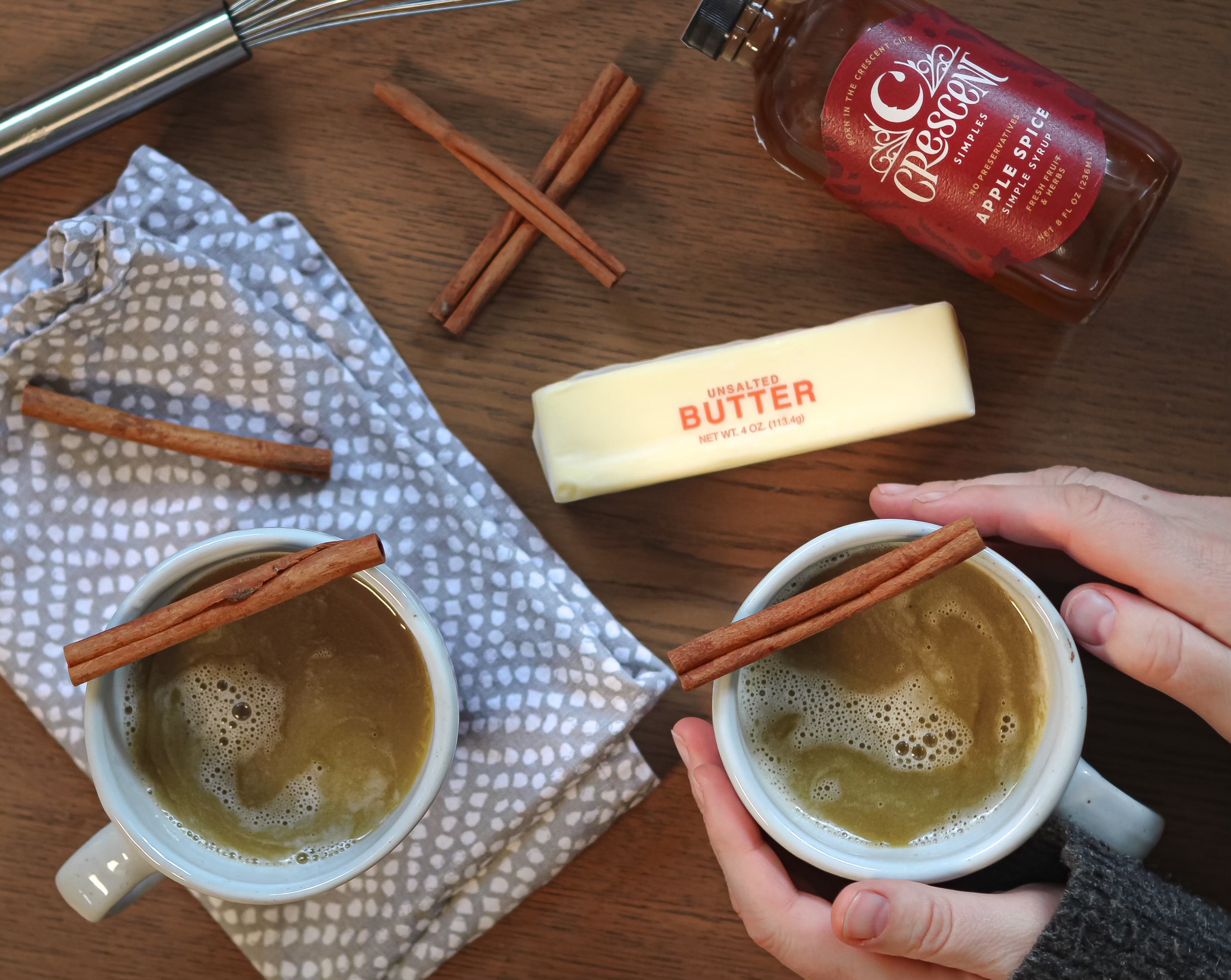 Makes 2 Hot Buttered Rums:
1 cup water
1/4 cup butter
1/2 cup Apple Spice Crescent Simples
4 oz dark rum
Even to a seasoned bartender, a Hot Buttered Rum can sound time consuming and intimidating. We're here to make it easy for you. This recipe is only four ingredients because our Apple Spice syrup contains many of the spices that would normally be called for. In a small saucepan over medium heat, melt the butter. Add the water and simple syrup and whisk consistently as the mixture comes to temp. Once the mixture is hot, add the rum and split into two mugs. Garnish with a cinnamon stick!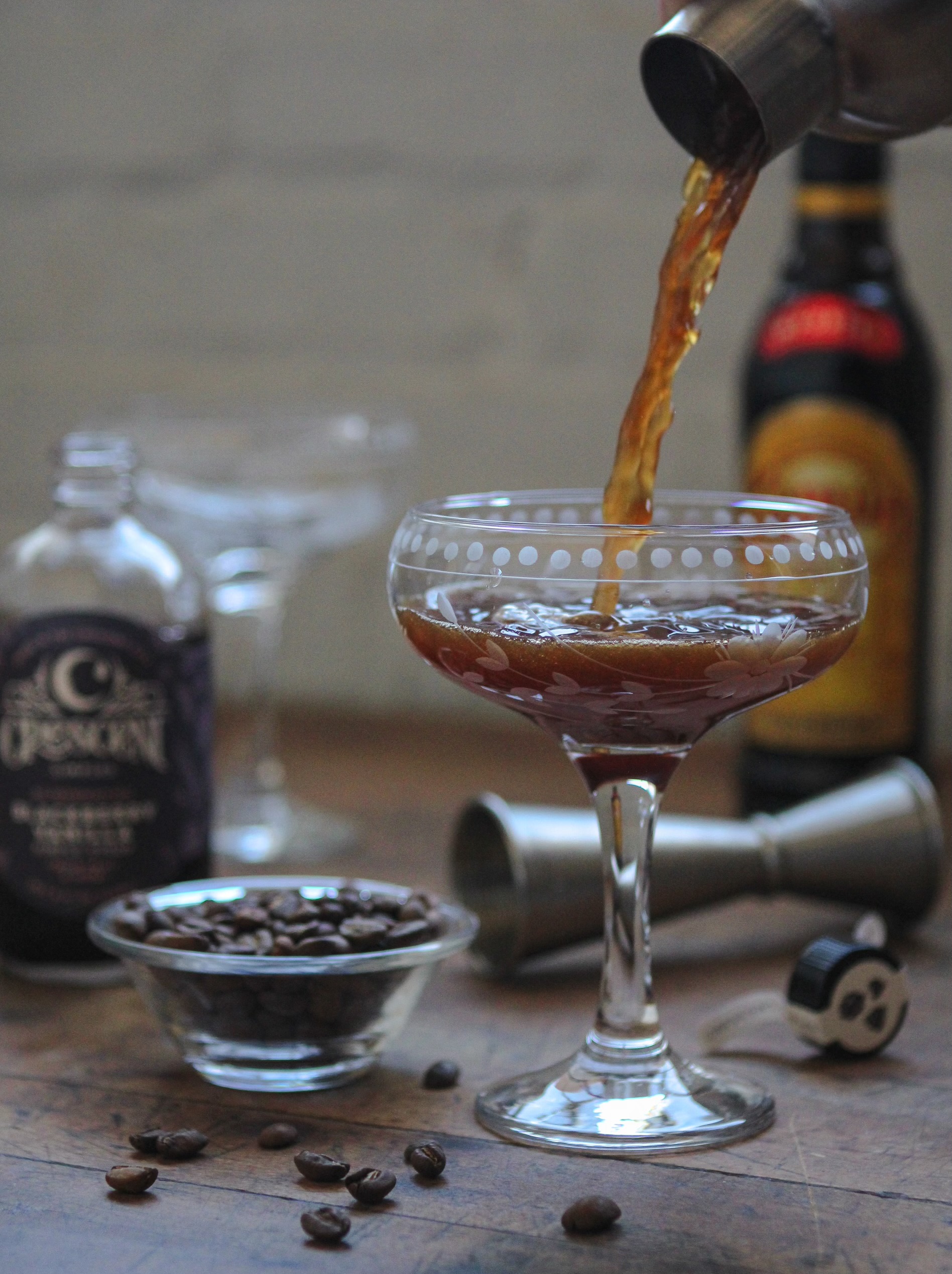 2 oz vodka
1.5 oz espresso
.5 oz Kahlua
.5 oz Blackberry Vanilla Crescent Simples
With the resurgence of espresso martinis on cocktail menus across the country, it was only a matter of time until we had to jump in the ring with our version. In a pinch, cold brew can be substituted for fresh espresso (although you'll get the best cocktail with the real thing). Simply add all the ingredients to a shaker with ice, shake until the shaker is too cold to hold, and strain into a chilled coupe. Garnish with three espresso beans -- one for health, one for wealth, and one for happiness.
2 oz vodka
1 oz lime juice
.5 oz Grapefruit Rosemary Crescent Simples
Top ginger beer
We love Grapefruit Rosemary in a Moscow Mule. It pairs perfectly with ginger beer! This cocktail is easy to make -- just shake the first three ingredients with ice, strain into a mule mug, and top with fresh ice and ginger beer. Give the cocktail a little stir with your barspoon to ensure it mixes properly.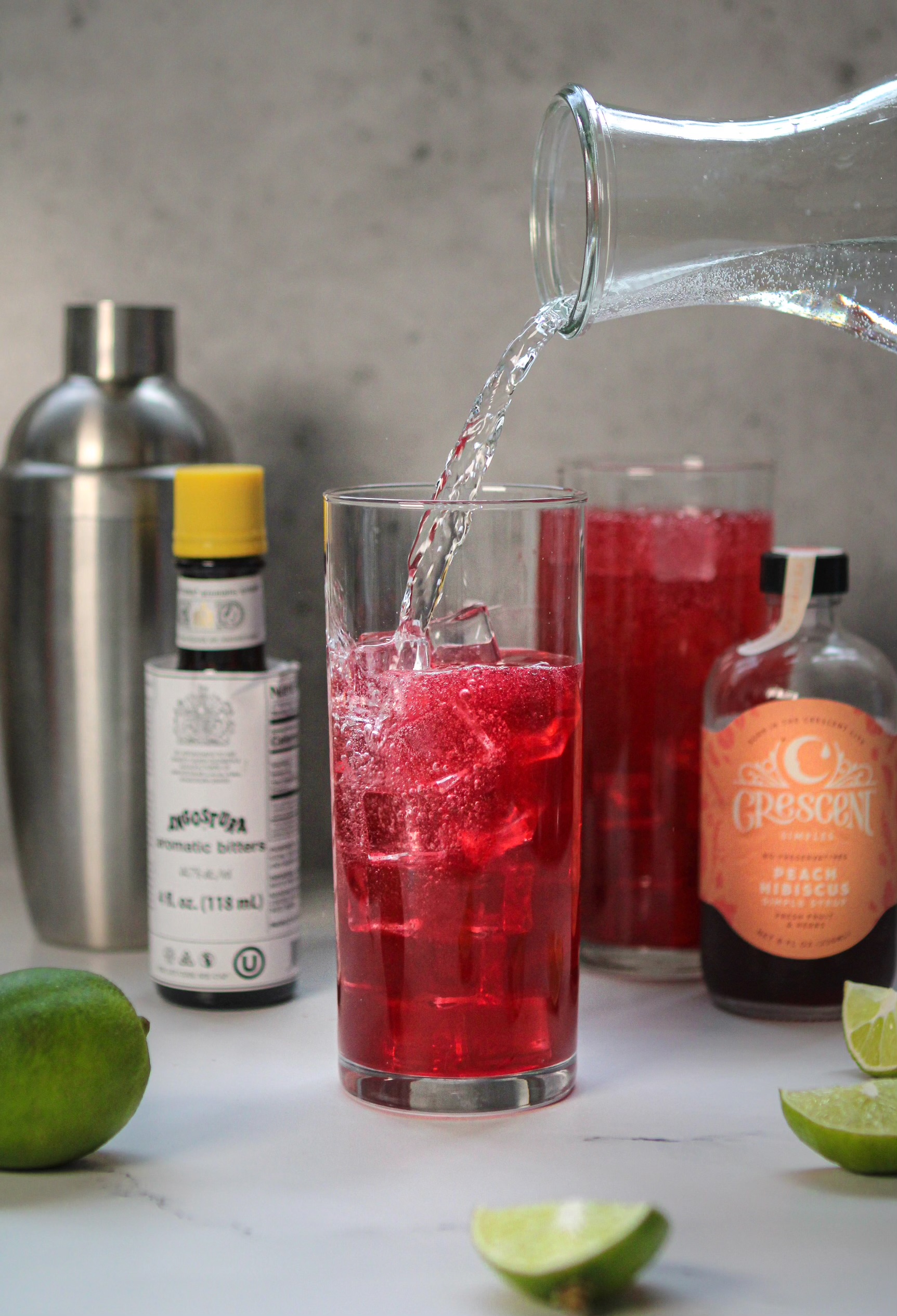 3 oz hibiscus tea
.75 oz Peach Hibiscus Crescent Simples
.5 oz lime juice
.25 oz pickle brine
Top soda water
Optional: 2 dashes Angostura bitters and 1 oz sweet vermouth
We decided a few months ago to make sure we always include a no ABV cocktail option in our monthly blog posts. We're happy to provide ways to spike it, but we want to make sure we're including drink ideas for everyone. Whenever I want to take a night off but still have something to drink, this is my go-to mocktail. Sometimes I add the sweet vermouth and bitters as a low ABV option on nights I just want to take it slow. The recipe sounds strange, but the combination of very sweet peach with the acid, vinegar, and salt in the pickle brine just...works. It's like the dash of salt you always add to cookies. The salt brings out the sweetness! To make this cocktail, shake the first four ingredients with ice, strain into a Collins glass with fresh ice, and top with soda water. Give it a quick stir with your barspoon to combine. If you're making the low ABV version, add the bitters and the sweet vermouth to the shaker, too.
All photography by Annie Lugar of Hoot & Annie's Photography.