I don't want to jinx it, but it seems to me spring arrived about halfway through February. Here in Virginia winter usually lingers into March, with a late snowstorm arriving sometime around the ides. However, as I write this, the weather forecast is calling for a high of 81 one day next week and the rest of the days are looking pretty balmy. So in that spirit, we're leaning in to an early Spring with some fun, refreshing cocktails to be enjoyed outside.
1.5 oz Cognac
.75 oz lemon juice
.5 oz Green Chartreuse
.5 oz Raspberry Rose Crescent Simples
2 dashes Angostura bitters
We're kicking things off this month with our version of a Champs Elysees! Roses and Paris just seem to fit together, and so do our Raspberry Rose syrup and this cocktail named after the famous boulevard in the City of Lights. We're actually a huge fan of Raspberry Rose paired with most herbal liqueurs, such as Chartreuse, Lillet, vermouth, etc. To make this cocktail, add all ingredients to a shaker with ice and shake until cold. Strain into a coupe and garnish with a lemon twist.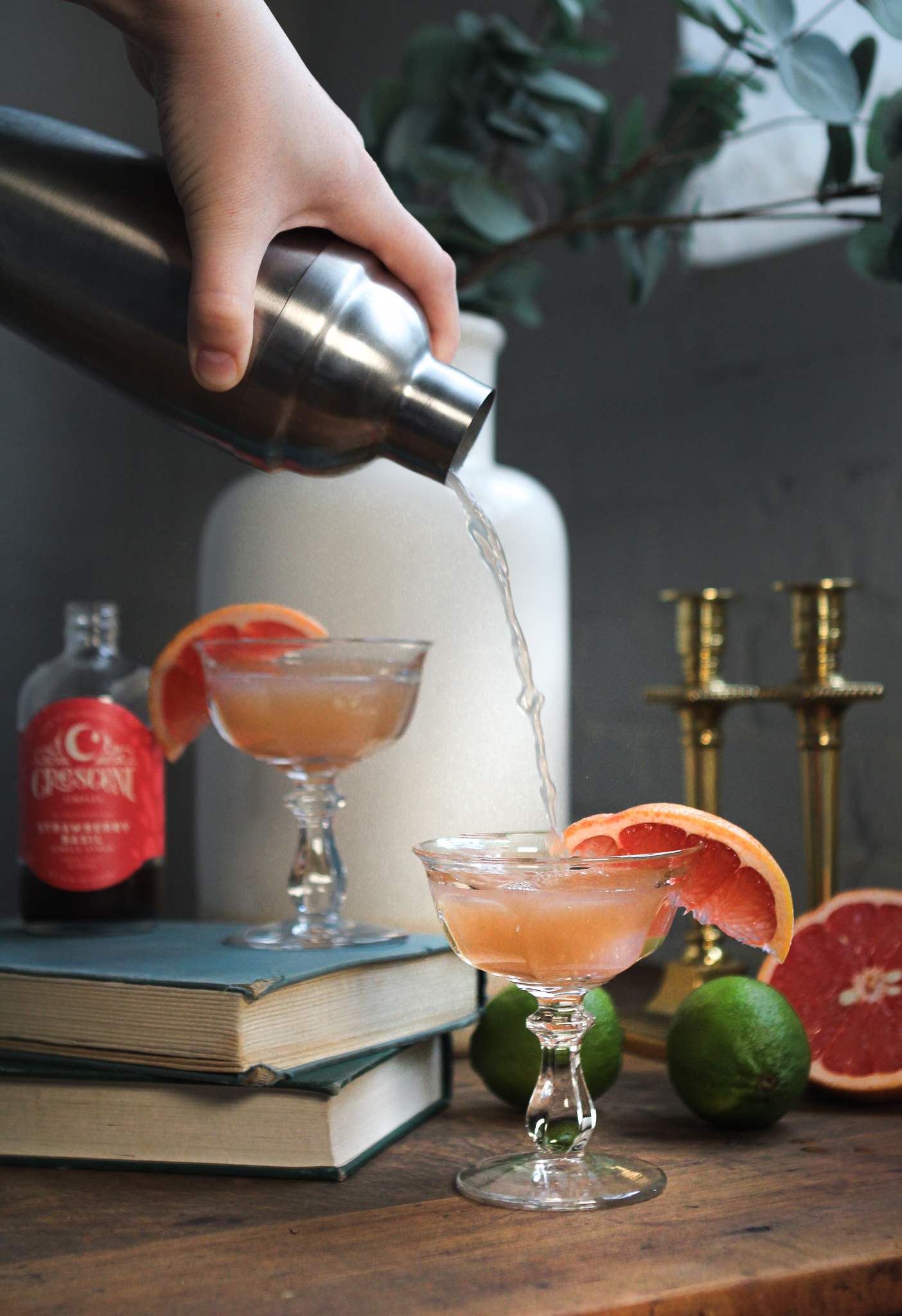 2 oz rum
.75 oz lime juice
.5 oz grapefruit juice
.5 oz Strawberry Basil Crescent Simples
.25 oz Luxardo Maraschino liqueur
The Hemingway Daiquiri is one of our go-to cocktail recommendations for our Grapefruit Rosemary syrup because it can be swapped in for the fresh grapefruit juice. However, we really love our Strawberry Basil syrup in this drink, as well. This is always a favorite in our house when spring comes around. It originated at El Floridita in Cuba, where Ernest Hemingway (its namesake) used to order it on repeat. He got it without simple syrup, but we like to balance out the tartness by adding a half ounce. While the classic recipe calls for Luxardo Maraschino liqueur (and this is always a fun addition to your home bar), if you don't have it, the cocktail is still delicious without it. Again, all you have to do to make it is add all ingredients to a shaker with ice, shake until cold, and strain into a coupe.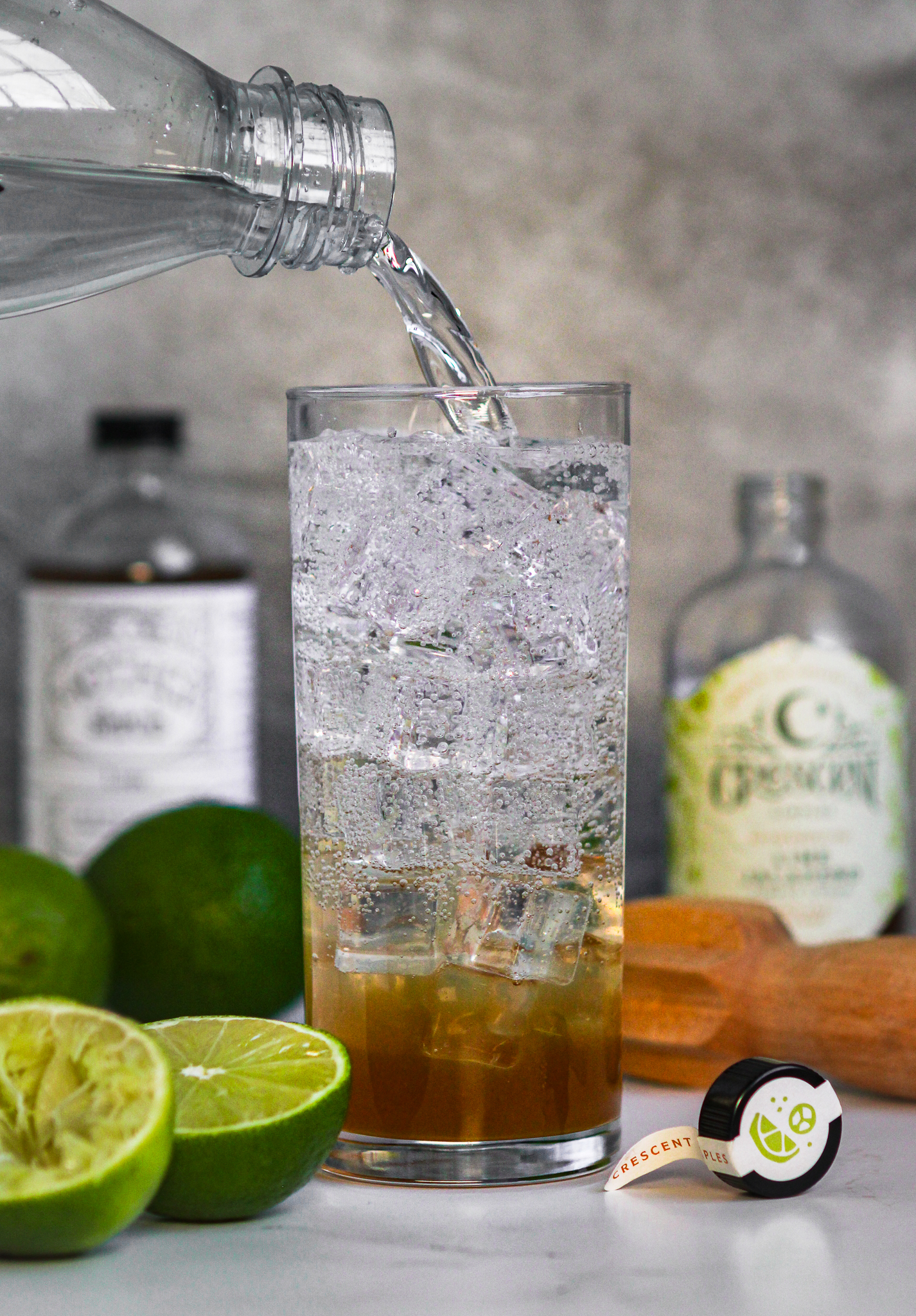 1 oz Lime Jalapeno Crescent Simples
.5 oz Ginger MOTHER shrub
.5 oz lime juice
Top with soda water
This is a mocktail with a BITE for all of you who love all things spicy! Thoroughly tart and spicy, you can easily turn this into a cocktail by adding 2 oz of vodka, gin, rum, tequila...whatever your preferred clear liquor is. This drink can be built directly in the glass by adding all ingredients to a Collins glass with ice and stirring with a barspoon to combine. Feel free to adjust the ingredients according to your liking.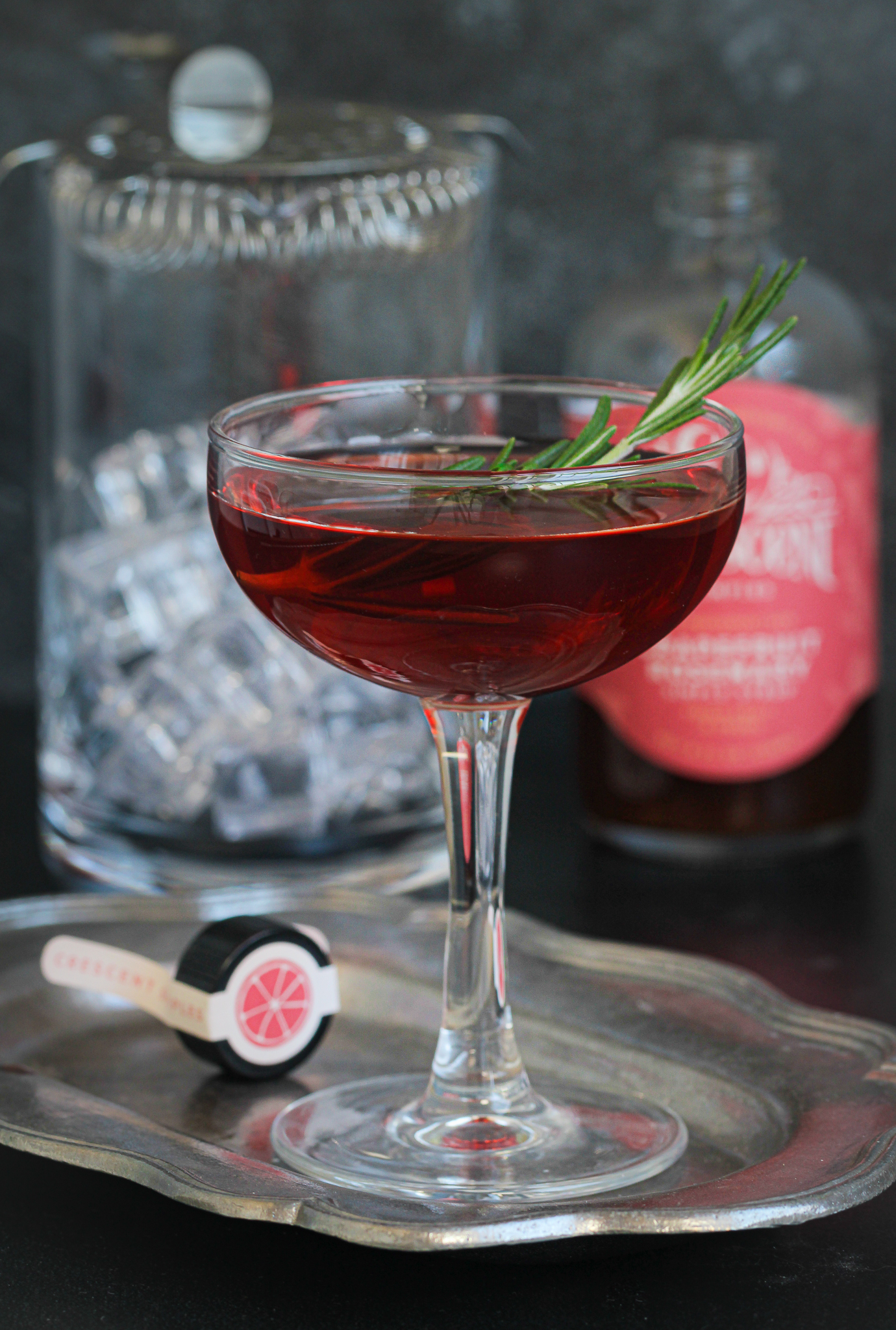 1 oz rye whiskey
1 oz dry vermouth
.5 oz Campari
.5 oz Grapefruit Rosemary Crescent Simples
Y'all know we loooove the combination of Campari and our Grapefruit Rosemary syrup, so here we are, at it again. This is our varation of an Old Pal, a classic cocktail that originated in the 1920s. It doesn't call for simple syrup and is usually made with equal parts rye, vermouth and Campari, but we think this version is just as (if not more) delicious. To make it, add all ingredients to a cocktail mixing glass with enough ice to fully cover the ingredients and then some. Stir for about 20 seconds, then strain into a coupe. Garnish with a rosemary sprig or a grapefruit twist. If you really want to get fancy, "toast" your garnish by lighting it on fire for a few seconds, then blowing it out and placing it on the cocktail. This adds a nice smoky flavor and creates a full sensory experience.
All photography by Annie Lugar of Hoot & Annie's Photography.