Welcome to the family, Apple Spice!
We are so excited to introduce our newest flavor, Apple Spice. Just in time for fall, this flavor is made from fresh apples, lemons, cinnamon sticks, nutmeg, and cloves. We're teaming up with Carter Mountain to provide all the apples for the duration of their season. Hurray for supporting multiple local businesses in one product!
Apple Spice is delicious in everything from a flavored martini to a hot toddy, but we kept it basic and delicious on this first blog cocktail utilizing it. A Rusty Nail really allows the flavor to shine!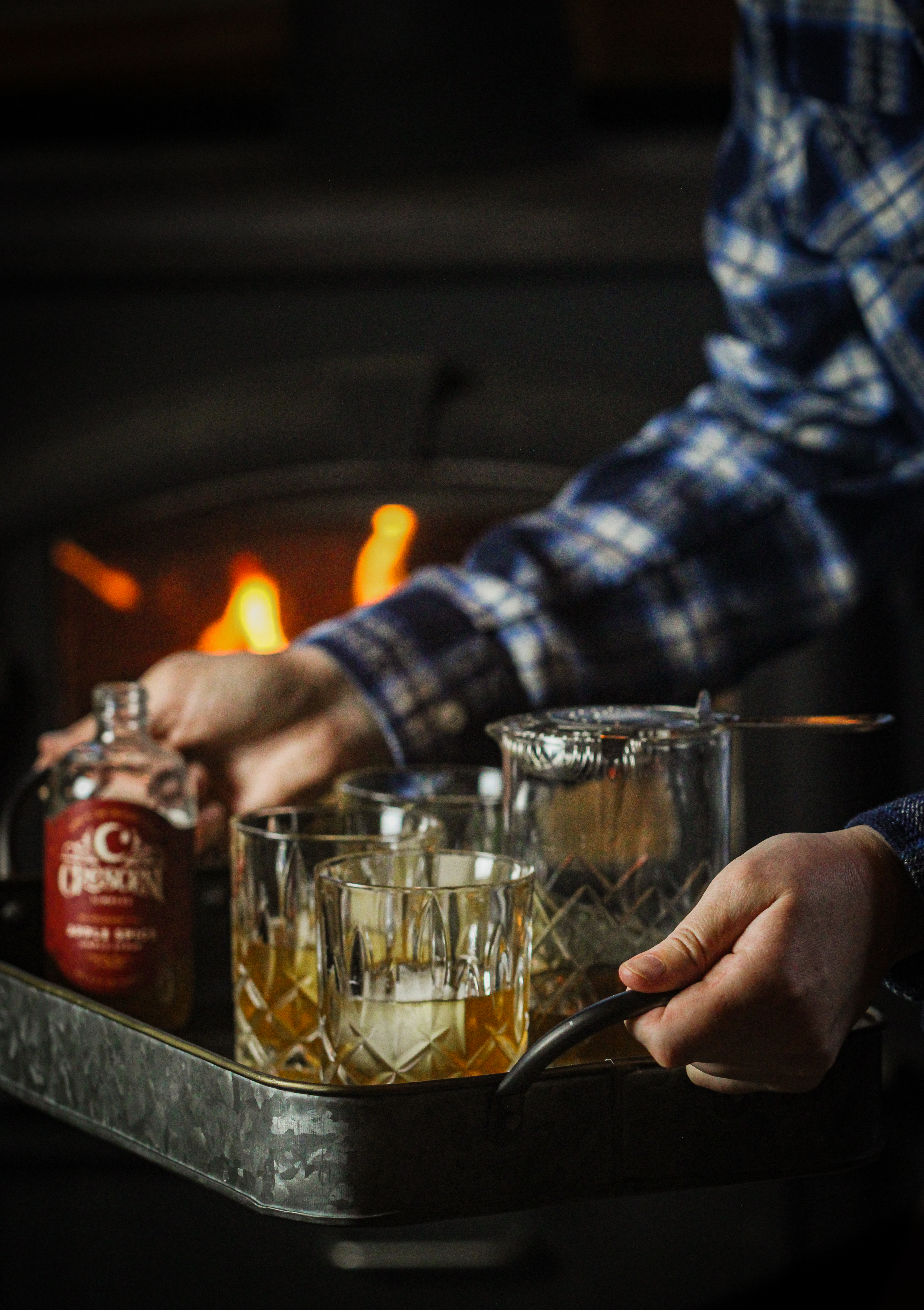 2 oz scotch
.5 oz Drambuie
.5 oz Apple Spice Crescent Simples
Add all ingredients to a mixing glass with ice. Stir for about 20 seconds, then strain into a Rocks glass with a single large cube or a few small cubes of ice. Garnish with a zested lemon peel or a dried apple wheel.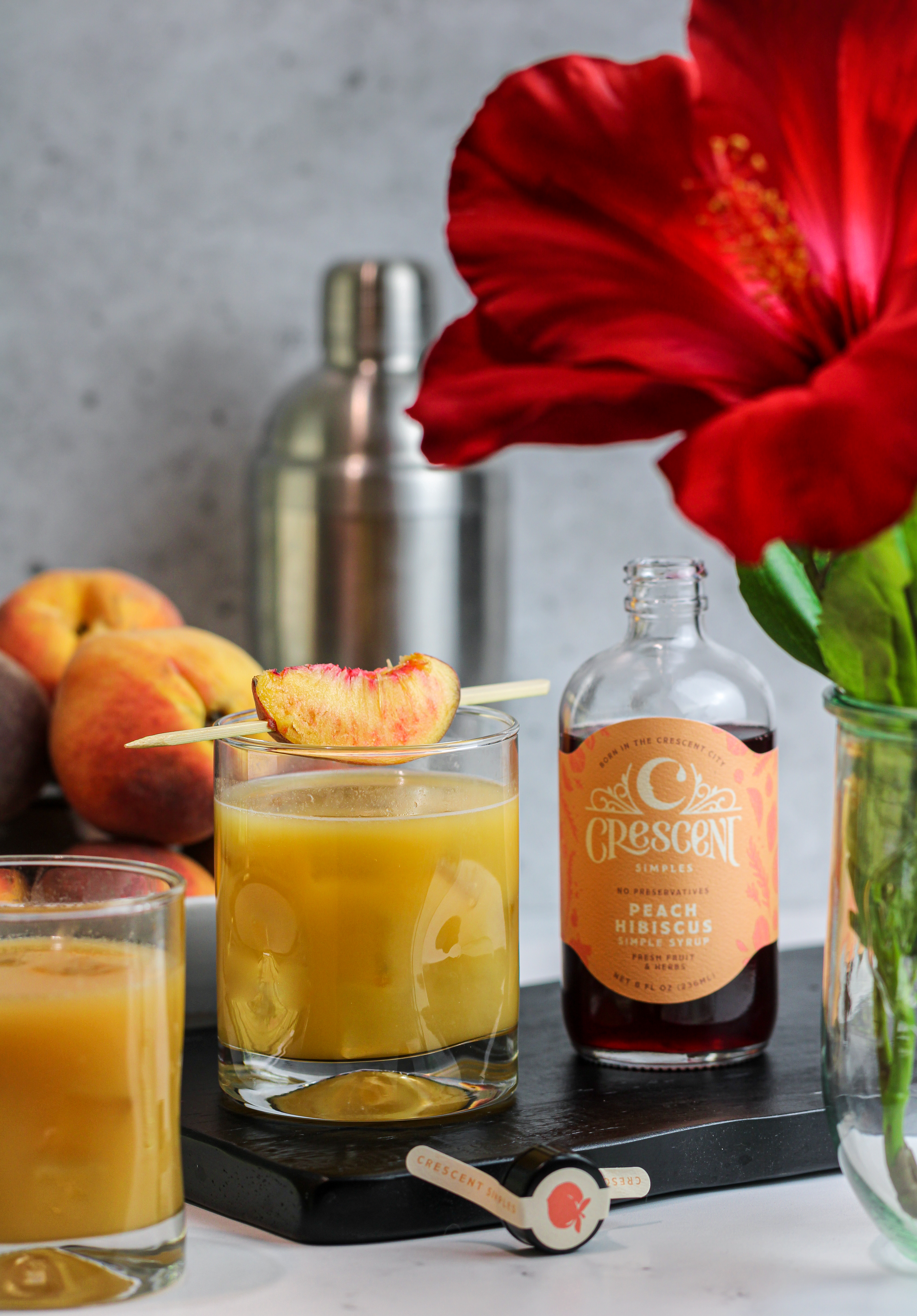 3 oz fresh squeezed orange juice
2 oz vodka
.5 oz Peach Hibiscus Crescent Simples
Peach season is coming to an end, and next week is probably the last time we'll bottle any this year. We've been working hard to stock up and hopefully we will still have some for sale for the next few months! But until we run out, a Peach Hibiscus cocktail will always be featured on the blog so you can make the most use of it while we have it. This month's is our twist on a Fuzzy Navel. This classic brunch cocktail can be bracingly sweet, so we switched it up a little bit by using vodka and our syrup in place of Peach Schnapps. To make it, all you have to do is add all ingredients to a shaker with ice, shake until cold, and strain into a Rocks glass filled with ice. Garnish with a fresh orange or peach slice!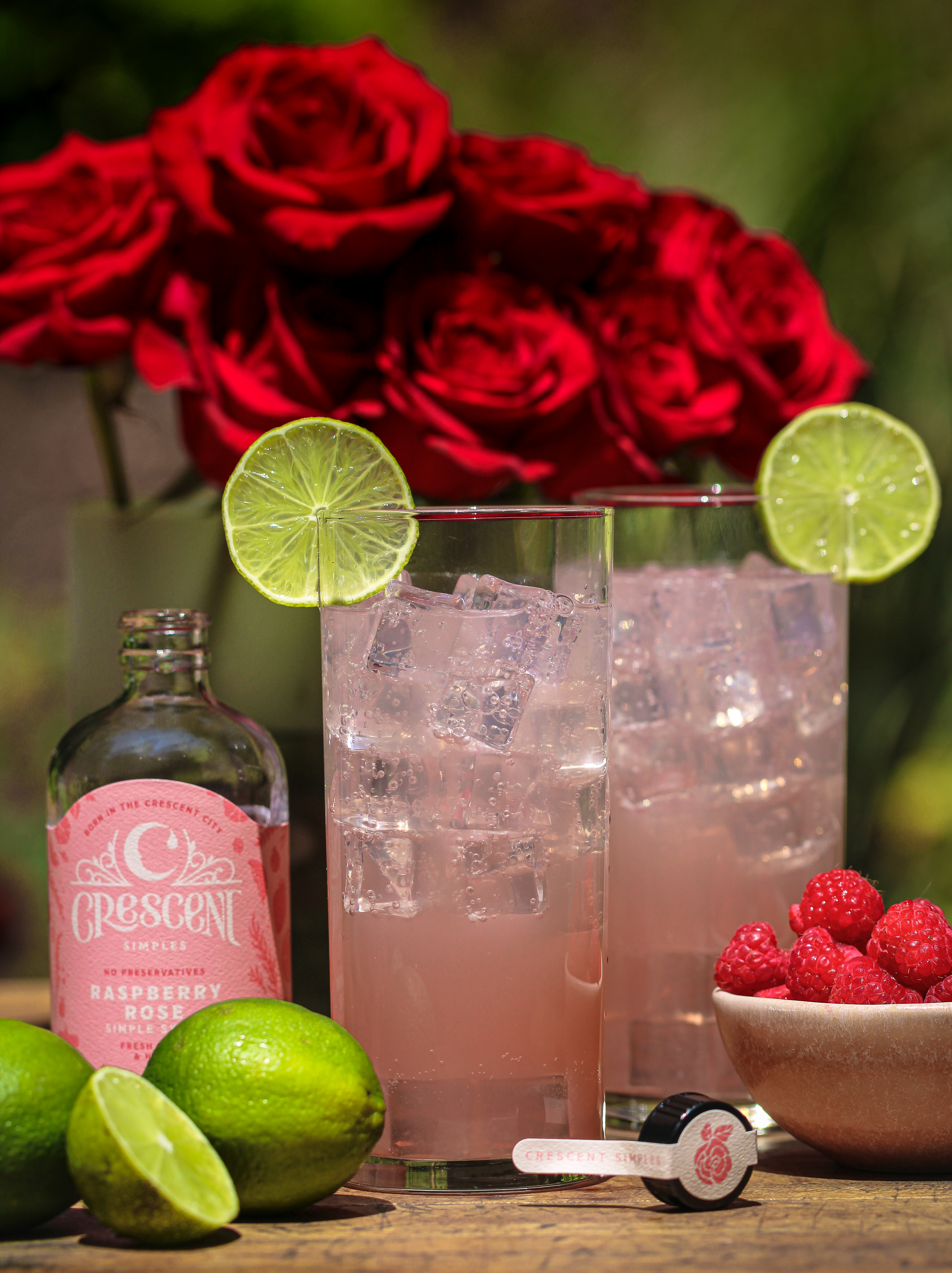 2 oz gin
.5 oz lime juice
.5 oz Raspberry Rose Crescent Simples
Top soda water
A Rickey is a delicious, versatile cocktail that can honestly be made with any of our syrups. That being said, we love Raspberry Rose with gin. Add the gin, lime juice, and simple syrup to a shaker with ice and shake until cold. Strain into a Collins glass filled with ice, then top with soda water and toss back and forth into the bottom of the shaker to combine all the ingredients. Garnish with a lime wheel or some fresh raspberries if you have them.
2 oz water
1 oz lemon juice
.5 oz Grapefruit Rosemary Crescent Simples
Top with Bingo Beer Co Patio Vibes or another light or wheat beer of your choosing
The beginning of this cocktail has you making a little bit of at-home lemonade, then you add a beer and voila! You have a shandy! A Shandy is a wonderfully refreshing drink for these still-warm fall days, and the Grapefruit Rosemary syrup pairs perfectly. To make it, just add the water, lemon juice, and simple syrup to a shaker with ice and shake until cold, then strain into the bottom of a pint glass. Fill to the top with a light or wheat beer of your choice and enjoy! A fresh grapefruit slice that you can squeeze and drop in makes a perfect garnish.
As a final note, we want to give a huge shoutout to Annie Lugar from Hoot & Annie's Photography. Annie has been doing our product photos for a while now and starting this month is taking over the blog photos! We think she does incredible work and it's exciting to have some marketing help. Give her a follow on Instagram, @hootandannies_photography, if you agree!